2006.10.10 Tuesday
スイスからリサ、ジュリアン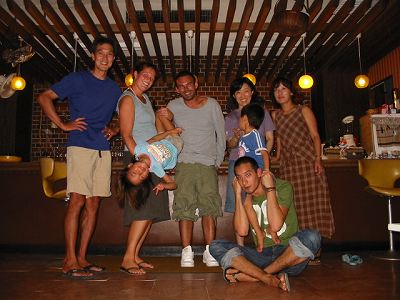 スイスから来てくれたリサ達は綺麗なビーチを探して
日本を旅してたのですが
一度泊まってくれて数日後に鳥取まで行っていたのに
やはりここが一番と戻って来て2週間滞在してくれました。
多恵子のハマグリパスタを絶賛してくれて
かなり自信をつけたみたいです。
(レイコさんとなってますがタエコの間違いです。)
hi there!

i hope everything is fine so far at kaiyu! is everyone doing gennki? i hope so.

i would love to thank you for making our stay as comfortable and enjoyable as possible. we really had a nice and time. thank you!

please say reiko-san again, that i really loved her freshly made seafood/vongole pasta very much. yesterday, before falling asleep her pasta popped up in my mind, and i have to say that i might never again have such good pasta - not even in italy. the idea, that she went picking the mussels herself early in the morning made the pasta even taste more fantastic. thank you sooooooo much! well, i will miss this kind of pasta dish for long, as in switzerland it is really hard to get fresh and good mussels.

please tell marie that i am sorry for not coming to the unndokai. i hope she was not too disappointed.


now, i have another couple of days here in tokyo before going back to switzerland.

say hello to everyone.

julian.

hello all,

how ware you all?
thank you for the message.
we are now back in switzerland, since this morning. it is already cold. no
snow jet.

we had a good time in tokyo. a lot of things, sounds, people and
impressions. we really miss you all and the tatami room with the green
fridge, and seashells everywhere. and surfing and espescially the onsen.
and the smell of cedarwood burning.
and of course your good food and company.
and the rooftop with it's view.

we enjoyed our stay at your place very much. and we are really happy, that
we met you. and please tell marie that it's no problem at all, that we
couldn't make the movie. it was not a projekt for school. it was a story
we wrote for ourselfs, for japan. so we won't get in troubles at all.

we enjoyed going to the beach with her and going to the sportsday.

hope to hear from you soon.

our best wishes to all of you

lisa, simon and julian